DIRECTIONS TO THE INSTITUTE IN STRASBOURG
TRAM: lines A and D stop "Porte de l'Hôpital", lines B and C stop "Musée d'Art Moderne"
A CTS shuttle crosses the Hôpital Civil area and joins both Tram stops "Porte de l'Hôpital" and "Musée d'Art Moderne"
BUS: line 10 stop "Saint Nicolas", line L1 stops "Hôpital Civil" or "Hôtel de Police"

For more information, please visit:

CTS – Transport Company Strasbourg

Take the exit
"Place de l'étoile"
. Take the exit "
Place de l'étoile
". Follow the N4 over 3 km before taking the exit to "
Hôpital Civil
".
To access Saint-Nicolas (400 pl.) and Canal (100 pl.) parking lots: continue straight ("brigade Alsace-Lorraine" street); at the end of this street, before the "Place d'Austerlitz", turn left to "Paul Reiss" street. Then, at the end of this street, turn left to "Porte de l'Hôpital" street. Parking lots entries are on your right.
To access the NHC entrance (drop-off area): turn left and go to "Quai Pasteur". The entrance is signposted on your right.
Parking lots as well as the Strasbourg Hôpital Civil area are metered.
Strasbourg, one of the largest train stations in France, is connected by direct lines to several French cities (Paris, Lyon, Marseille, Nice, Montpellier, Nîmes, Lille; Bordeaux, Nantes, and Toulouse, in the summer).

Strasbourg SNCF Train Station : www.sncf.com

Frankfurt airport is 220 km away from Strasbourg.
To get to Strasbourg, you can take a Lufthansa flight to Frankfort. Once at Frankfort airport, a Lufthansa shuttle will take you to Strasbourg city center in approximately 2h30.

Information / Reservations: www.lufthansa.com
Strasbourg-Entzheim airport is 10 km away from Strasbourg city center (15 minutes).
Several daily flights connect Strasbourg-Entzheim airport and Paris Roissy Charles de Gaulle airport.

Information / Reservations: www.airfrance.fr
---
SLEEPING AND EATING NEARBY THE INSTITUTE STRASBOURG
---
HÔTEL LES HARAS****
Rediscover the unique charm of the National Stud Farm set in a rare setting in the heart of Strasbourg on the edge of the Petite France historical quarter.
Welcome to this jewel of excellence!

Information / Online reservations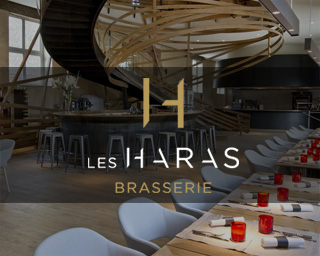 BRASSERIE LES HARAS
Whether you are a rider or not, you are welcome in the Brasserie des Haras' unique universe. Discover a modern reinterpretation of the French brasserie in a place steeped in history.

Information / Access and Schedule / Menu