Definition
Calcium metabolism is regulated by the secretion of a hormone (parathormone – PTH) by four small glands called parathyroid glands located in the neck. Under certain circumstances this regulation is disturbed by an inappropriate increase in the secretion of this hormone. There are three types of hyperparathyroidism. They are defined according to the circumstances of their appearance:
Primary hyperparathyroidism, the most common, occurring sporadically or as part of an endocrine syndrome.
Hyperparathyroidism secondary to another pathology (renal failure) or as consequence of several medical therapies (Lithium)
Tertiary hyperparathyroidism, the most uncommon. It is a secondary hyperparathyroidism the cause of which has disappeared but with persistence of an inappropriate secretion of parathormone.
Although these three types are responsible for an increased secretion of parathyroid hormone, their clinical signs, their circumstances of diagnosis and of management will be different.
Specialized care is necessary to make the diagnosis, request additional examinations and initiate appropriate treatment.
This treatment is most often provided by your GP, together with an endocrinologist and a specialized surgeon.
Anatomy
Previous views
Copyright Websurg©
There are usually four parathyroid glands. They are located in the neck, very close to the thyroid gland, hence their name. However, they have no secretory or embryological relationship with the thyroid. There are two superior parathyroid glands and two inferior parathyroid glands. Their position in the neck is explained by their embryological migration.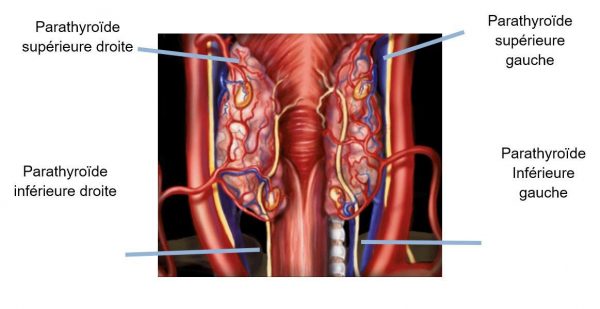 Posterior view
Copyright Websurg©
Primary hyperparathyroidism
Clinically, hyperparathyroidism is most of the time asymptomatic or associated with symptoms that are very unspecific for the patient.
It can be responsible for extremely various clinical signs such as joint or muscle pain, headache, psychological disturbances, insomnia.
A particular diagnostic circumstance is renal colic, linked to renal stones as a consequence of too much calcium excretion in the urine.
It is most often suspected when a blood test is taken for monitoring or the diagnosis of another pathology which shows an increase of the Calcium level in the blood.
The diagnosis of certainty is based on a blood test which shows a parathyroid hormone (PTH) level unsuitable for calcemia. In some cases these two elements remain within the limits of normal but their relative blood level is pathological and testifies to a lack of adequate regulation of the parathormone level.
The cause of this primary hyperparathyroidism is usually the development of a parathyroid adenoma that secretes PTH autonomously and unregulated. This adenoma is unique in 90% of the cases and multiple in 10%. This adenoma is a small, benign tumor, the result of cell proliferation cloned from a first cell. We thus usually find a normal parathyroid attached to the adenoma. Cancer is extremely rare in this pathology.
When the biological diagnosis is certain, localization examinations can then be carried out:
A cervical ultrasound: it is extremely sensitive especially thanks to the definition of current ultrasound scanners. It is very operator dependent. The images generated do not allow precise anatomical localization.

A MIBI scintigraphy: it is extremely specific when it is positive. It is currently coupled with a CT image allowing precise anatomical localization.
A PET CT with FCholine: it seems more sensitive than MIBI scintigraphy. It is coupled with a CT image for a more precise location. This exam is currently being evaluated.

A 3D reconstruction: In our department, an injected Ct is carried out, completed with a 3D reconstruction (Visible Patient ©). It allows a very precise anatomical location by visualizing the adenoma and the adjacent structures.

Treatment
Some medical treatments temporarily improve the calcium level but do not cure the patient. The only curative treatment is surgical removal of this adenoma.
When its location is perfectly established, we perform a minimally invasive video-assisted intervention. A 2 to 3 cm scar allows resection of the adenoma under general anesthesia. When the localization is doubtful, we make a scar of 4 to 5 cm allowing the visualization of the four parathyroid glands in order to discover the one or those which are the seat of an adenoma.
This procedure takes place in outpatient surgery if conditions allow. It is associated with very low pain, and the regularization of calcium is immediate.
In some cases, when the large adenoma is very active in secretion, hypocalcemia can occur postoperatively, easily treated by taking calcium. The calcemia then settles within 24 to 48 hours postoperatively.
Complications related to this surgery are uncommon. In addition to the risk of infection or bleeding, temporary (exceptionally permanent) paralysis of a recurrent nerve is possible, resulting in a cloudy voice and usually treated by speech therapy.