Definition
Colon abnormalities are the most common damage to the digestive tract.
Colorectal surgery represents an important part of the interventions performed in digestive surgery, with over 60,000 procedures per year in France.
Pathologies associated with the colon can be benign, malignant or linked to functional disorders.
Anatomy
The colon is part of the digestive system and with the rectum forms the large intestine. In humans, it has an average length of 1.5 m and measures 4 to 8 cm in diameter, which represents a volume of about 1.8 liters.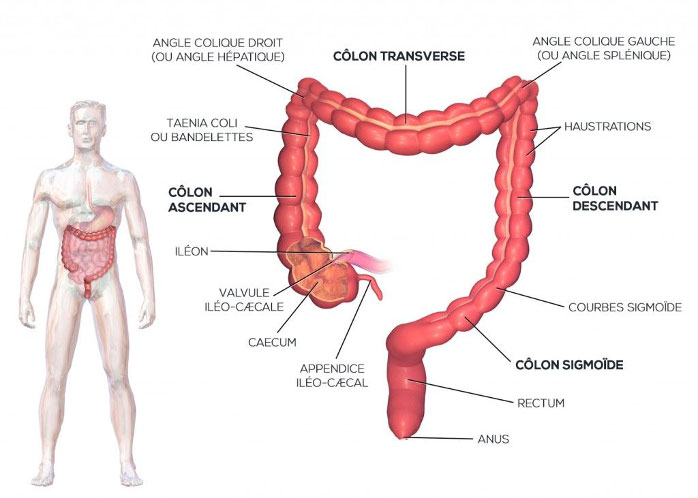 Colon anatomy
Copyright Wikimédia Commons©
The colon is made up of 4 segments:
the ascending or right colon
the transverse colon
the descending or left colon
the sigmoid colon
Its main role is to store waste, collect water, maintain water balance and absorb certain vitamins such as vitamin K.
Digested food is liquid. During digestion, it passes from the ascending / right colon towards the descending / left colon; this liquid will gradually transform into faeces which will become more and more solid. These will then pass into the rectum before being evacuated through the anus.
The colon is the part of the digestive system most prone to dysfunctions. The associated pathologies can be more or less serious.
Benign pathologies
Diverticulosis of the colon and its complications: diverticulitis, sigmoiditis
Inflammatory bowel disease (IBD): ulcerative colitis (UCSD); Crohn's disease
Endometriosis
Proctology (hemorrhoids, fistulas, cracks)
Malignant pathologies
Colon Cancer
Rectal cancer
Anal cancer
Complex tumor recurrences
Functional problems
Rectal prolapse
Anal incontinence
Diverticular disease
Diverticulitis is a pathology of the colon that often appears without prodrome. It is an infection of one or more diverticula. It can cause intense pain associated with fever. It is favored by age and low-fiber diets as found in the West. The diagnosis combines clinical signs, a biological assessment which confirms the infection, and a CT-scan which confirms the involvement of the colon and assesses its severity. This disease is most often treated medically. In some cases, there are indications for surgery with excision of the diverticular colon, mainly in case of complications or recurrence.
Inflammatory bowel disease (IBD)
Chronic inflammatory bowel disease, Crohn's disease and ulcerative colitis, are characterized by inflammation of the wall of part of the digestive tract, linked to an overactive digestive immune system. Often overlooked, they affect 200,000 people in France with varying intensity.
IBD is most often diagnosed in young people before the age of 30, most often between 14 and 24 years of age. These pathologies affect both men and women.
During inflammatory attacks, IBD is most often characterized by abdominal pain, frequent diarrhea, sometimes with the presence of blood, or with the anal region affected.
To date, there is no curative treatment for these pathologies, but current drugs in most cases allow lasting control of the disease and a satisfactory quality of life aside from inflammatory attacks. Surgery is necessary in case of complications or avoidance of medical treatment in more than 60% of patients with Crohn's disease and almost 30% of patients with ulcerative colitis. In case of ulcerative colitis, surgery is curative at the cost of significant functional consequences .
Endometriosis with digestive localization
Endometriosis is originally a gynecological condition. We talk about endometriosis with digestive localization when it develops on the intestines, colon and rectum.
The digestive disorders associated with endometriosis are not very specific, which can manifest themselves in the form of alternating diarrhea / constipation, pain, more rarely by the presence of blood in the stool or occlusion phenomena.
Treatment is complex and often accompanied by surgery. When surgery is decided, it is carried out by a multidisciplinary team (gastroenterologist, digestive surgeon, gynecological surgery) specialized in endometriosis (in partnership with the gynecological surgery team of the Strasbourg University Hospital – Department of Professor Akladios).
Colon cancer
Colon cancer is one of the most common cancers in industrialized countries. Age, diet, inheritance and lifestyle (physical inactivity, obesity, alcohol, tobacco …) play a key role in its appearance. In France, every day 100 people learn that they have it. Women are affected as much as men by this cancer. Several populations have a particularly high risk of developing cancer: these are people who have familial adenomatous polyposis (FAP) and people with Lynch syndrome (or HNPCC).
This cancer, detected early, is curable. For this reason, screening is offered in France to anyone over the age of 50, every two years.
For more information on colorectal cancer screening:
www.ameli.fr
Rectal prolapse and anal incontinence surgery
Prolapse (commonly called organ descent) can be the cause of incontinence. Rectal prolapse can cause anal incontinence. The externalization of the rectum, which is felt and seen by the patient, occurs at the beginning during efforts to push defecation. Anal incontinence can be associated with prolapse, because the phenomenon is perpetuated, from standing and walking. Patient cases are discussed and dealt with in collaboration with the urology and gynecology teams.
Externalized prolapse requires surgery, which includes abdominal, open, laparoscopic or robotic procedures, or sometimes even perineal surgery.
The management of anal incontinence is more complex and can combine physiotherapy, surgery, and various technical means (artificial sphincters, stimulators, etc.).
Proctology
Proctology is the medical specialty that deals with pathologies of the anus and rectum. In addition to specialized technical gestures, it often requires specific imagery (ultrasound, MRI, etc.) and functional explorations.
The department has developed innovative techniques with minimally invasive surgical management, in particular for the treatment of fistulas and sacro-coccygeal cysts.
Screening / Diagnosis
The one-day diagnosis process enables all the examinations necessary for the diagnosis of colorectal pathology to be carried out during the course of one single day, on a single site. The objective is to set up a treatment protocol allowing personalized and innovative support in the shortest possible time.
The diagnosis of colorectal cancer is based on colonoscopy with biopsy. The extension assessment requires other radiological examinations such as ultrasound, CT scan, MRI and in some cases the PET-CT.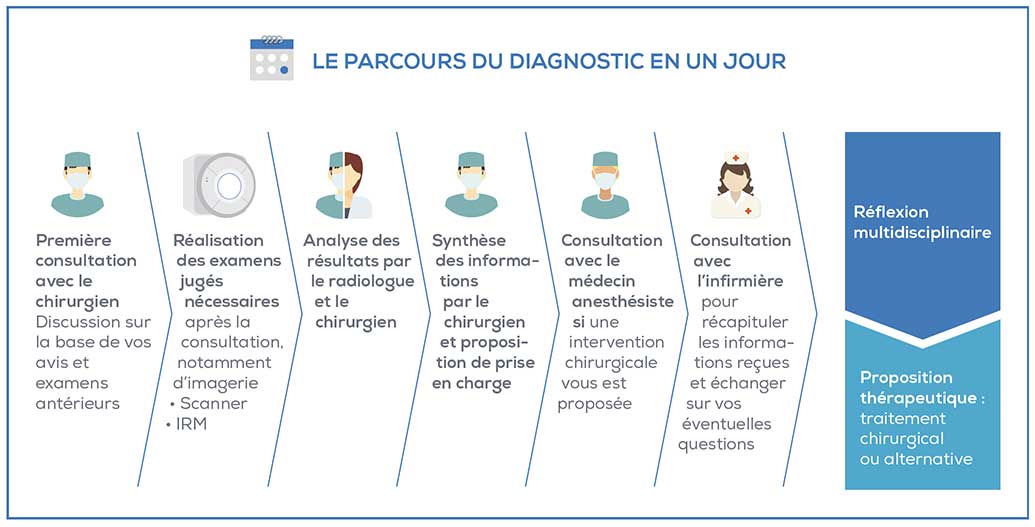 The diagnostic journey in one day
Copyright IHU Strasbourg©
The Institute of Image-Guided Surgery (IHU-Strasbourg) has a state-of-the-art diagnostic imaging platform which allows the patient to perform a CT scan and an MRI during the same day of consultation.
For more information on the IHU-Strasbourg medical imaging platform:
GIE medical imaging platform
All patients treated in the department are accompanied with a personalized care plan, from the preoperative consultation to the day of the operation. This support is provided by dedicated nursing staff and a digital application that performs personalized preparatory monitoring to help patients prepare for the intervention. Explanatory documents (PDF or video) are available on the website of the University Hospitals of Strasbourg .
All patients treated for colorectal disease are enrolled in an accelerated rehabilitation pathway, the ERAS (Enhanced Recovery After Surgery) program which meets the best medical standards. It has been certified and is carried out in the Surgical Unit 2015.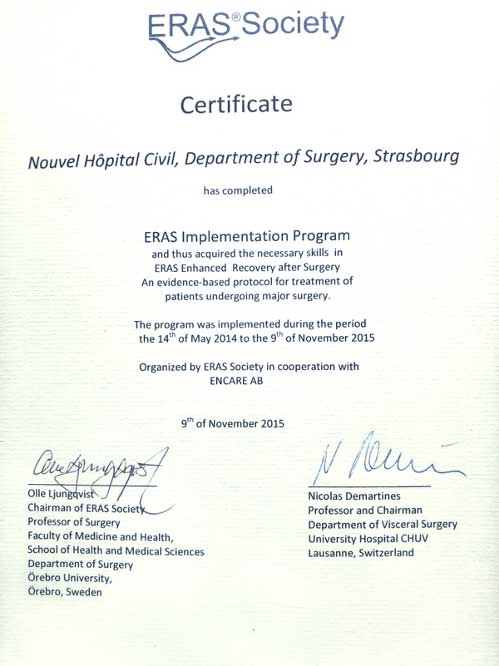 ERAS (Enhanced Recovery After Surgery)
Copyright University Hospitals of Strasbourg©
In partnership with the University Hospitals of Strasbourg and with the IRCAD (Institute for Research against Cancers of the Digestive System) for which the Hepato-Digestive Pole is the reference department, the patient can benefit from the most innovative care and treatments.
The quality of patient care is an essential objective, the patient is at the heart of everything we do.
Treatment
In case of surgical treatment, all patient cases are discussed at specialized meetings dedicated to colorectal surgery.A multidisciplinary consultation meeting (RCP) aims to establish the best therapeutic protocol for patients treated for cancer. This means that the patient's treatment is not decided by a single doctor, but by a team of several multidisciplinary doctors.

For more information on colorectal pathologies:
www.chru-strasbourg.fr