COVID-19
The ITEC-IHU course from May 13-15, 2020 is canceled. Registers can postpone their participation to the 2 end-of-year sessions (Sep1-Oct2 or Dec9-11)
See information for end of year courses
Sign up today for the « ITEC 2020 » course organized by the Institute of Image-Guided Surgery!
The Institute of Image-Guided Surgery of Strasbourg (IHU Strasbourg) is proposing two new training courses on International Therapeutic Endoscopic Ultrasound (EUS) for 2020.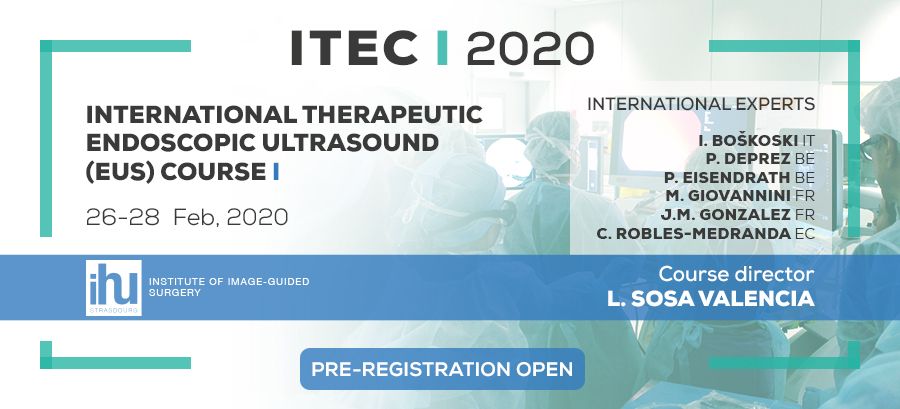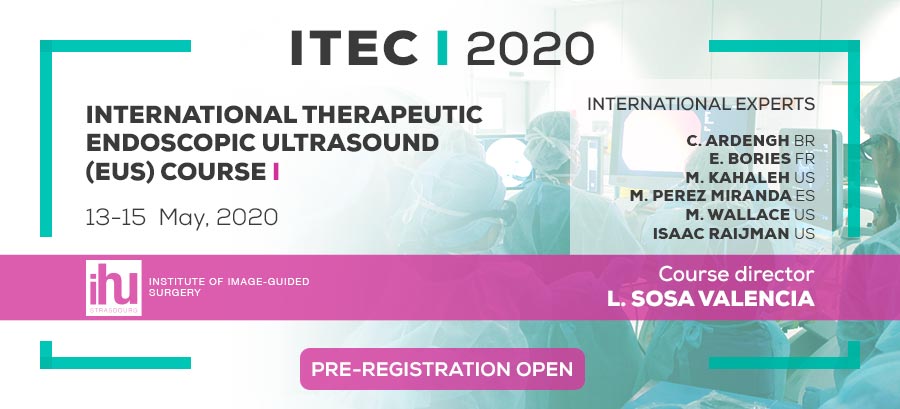 Therapeutic Endoscopic Ultrasound (TEUS) has become a new reference technique for minimally invasive treatment of digestive diseases. This has given rise to a growing need for advanced training for endosonographers requiring specific training in TEUS with comprehensive and more realistic models.
The IHU Strasbourg offers high-level theoretical and practical courses for endosonographers wishing to learn TEUS with internationally recognized experts. The training is based on pathological live tissue models developed to mimic the various pathologies encountered and facilitate the learning of their treatment using TEUS.
The training courses take place on an exceptional multimodal imaging platform (CT scanner, MRI and C-ARM) and benefit from the latest generation equipment.
-Objectives-
To progress from Diagnostic EUS to Therapeutic EUS in an intensive hands-on course.
To understand the full potential of TEUS in the daily practice of endoscopy.
– Special Focus on –
Hepaticogastrostomy
Cystogastrostomy
CBD gastrostomy (Choledochal drainage)
Gallbladder drainage
Radiofrequency ablation
Fiducial placement
Glue embolization
FBN
Neurolysis of celiac ganglia
Others
Open to 16 participants accompanied by their nurses.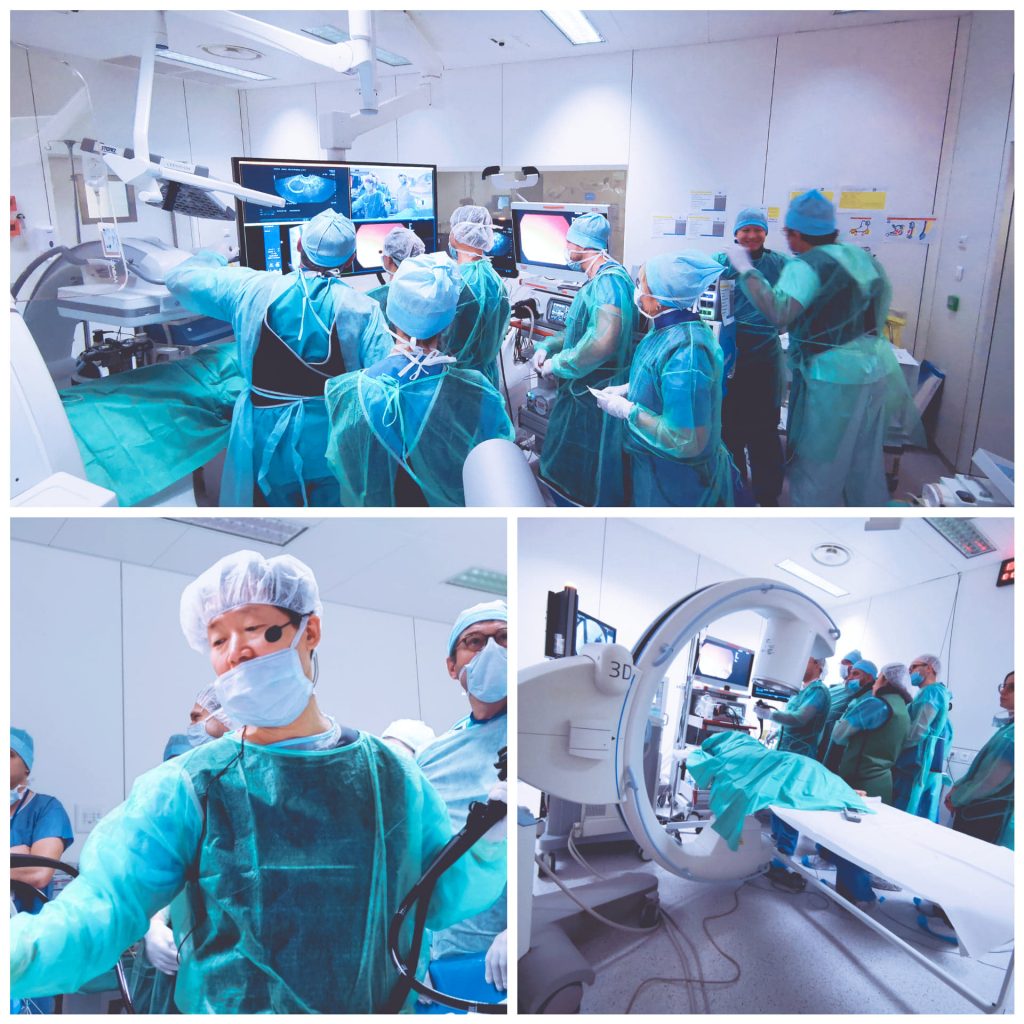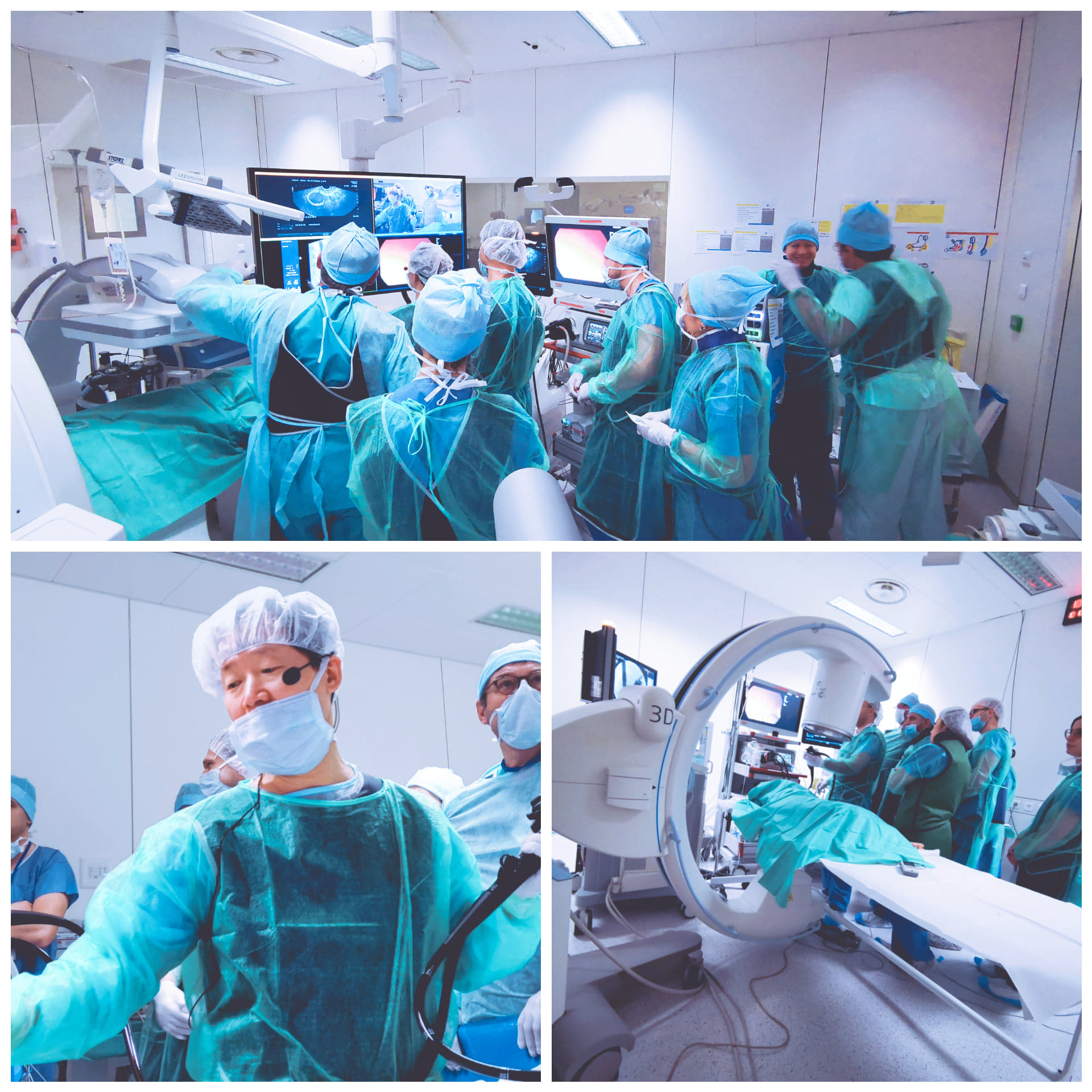 Course Director:
Leonardo SOSA VALENCIA MD, MSc
Faculty Panel:
F. HABERSETZER FR, J. HUPPERTZ FR, L. SWANSTRÖM US, M. A. AI – HADDAD US, V. ARANTES BR, C. ARDENGH BR, E. BORIES FR, I. BOŠKOSKI IT, F. CAILLOL FR, S. CARRARA IT, J.-B. CHEVAUX FR, P. DEPREZ BR, F. DI MATTEO IT, G. DONATELLI IT, P. EISENDRATH BE, M. GIOVANNINI FR, J.M. GONZALEZ FR, P. GRANDVAL FR, M. KAHALEH US, V. KAUL US, M. KHASHAB US, S. KOCH FR, A. LARGHI IT, P. MOUTINHO RIBEIRO PT, M. PALAZZO FR, L. PALAZZO FR, M. PEREZ-MIRANDA ES, T. PONCHON FR, I.RAIJMAN US, L. C. SABBAGH CO, D.-W. SEO KR, M. SHARMA IN, S. N. STRAVROPOULOS US, M. TOPAZIAN US, S. VAN DER MERVE BE, P. VILMANN US, M. WALLACE US.
Two dates already available in 2020:
February, 26-28, 2020
May, 13-15, 2020
Prices:
Group A – Complete hands-on practice with lectures and cases presentations.
Endoscopy Nurse or Assistant (doctor) included – 2677€
Group B – Auditorium with live transmission from the experimental platform, lectures and cases presentations – 757€
Special 25% discount for members of Club Francophone d'Echoendoscopie (CFE) & Société Française d'Endoscopie Digestive (SFED) – Upon presentation of membership.
Preferential rates proposed for accommodation with our « LES HARAS HOTEL**** » – see program (p.15)
Located at the IHU Strasbourg & IRCAD France in Strasbourg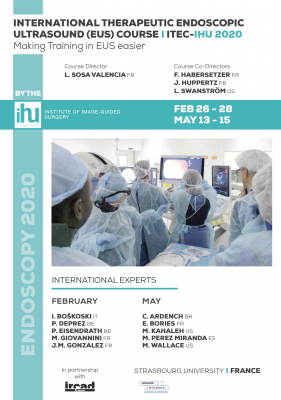 Course Director:
L. SOSA VALENCIA FR.
Course Co-directors:
F. HABERSETZER FR.
J. HUPPERTZ FR.
L. SWANSTRÖM US.
Download the ITEC 2020 program (February & May)
---