The French Public Investment Bank (Bpifrance) supports French companies by offering financing solutions to provide backing for their projects (creation, development through innovation, conquest of new markets, equity investment, recovery or external growth initiatives, etc.).

Since January 2019, Bpifrance has been organizing a tour of French campuses with the aim of raising awareness and supporting project promoters of the Deeptech Plan. The plan is to double the number of high-tech startups from academic research within five years.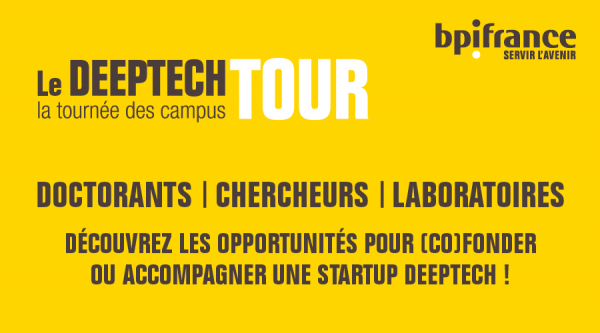 Bpifrance and its partners will meet you in Strasbourg on January 16th, 2020 at the Palais Universitaire de Strasbourg to:
share examples and concrete testimonials demonstrating the bridges between academia and startups;
provide operational tools for the creation of startups (build a team, be accompanied, manage intellectual property, etc.);
highlight a rich powerful ecosystem, funds, new legislative measures that work to the success of Deeptech startups.
Talks, workshops, meetings, exchanges between parties involved in the ecosystem…
Discover these great opportunities on your campus with the Deeptech Tour.
See you on January 16th, 2020 at the Palais Universitaire de Strasbourg

Online Pre-registration for the Deeptech Tour 2020 in Strasbourg
Event organized by Bpifrance, the University of Strasbourg and its partners