Register for the course "ITEC 2019" organized by the Institute of Image-guided Surgery!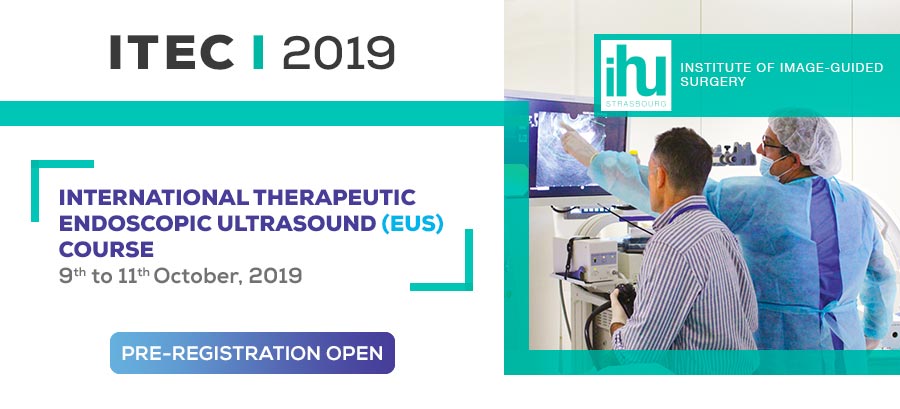 The Institute of Image-Guided Surgery (IHU Strasbourg) is presenting its second International Therapeutic Endoscopic Ultrasound Course (ITEC-IHU, May 2019).
This world-renowned Therapeutic Endoscopic Ultrasound (TEUS) technique has transformed our approach from traditional surgical management to non-invasive endoscopy. Endosonographers require specific training in TEUS, therefore there is a growing need for comprehensive and more realistic models.
We are proposing an exciting and realistic way of learning with pathological live tissue models, making EUS easier and recreating clinical conditions on our experimental imaging platform with CT-Scanner, MRI and C-Arm to facilitate imaging before EUS intervention in our unique IHU Strasbourg teaching facility. Experienced endosonographers will be able to benefit from this unique experience to learn TEUS with the expertise and know-how of recognized experts using pathological live tissue models.
-Objectives-
to progress from Diagnostic EUS to Therapeutic EUS in an intensive hands-on course.
to include both theory and hands-on training using pathological live tissue models hence the perfect introduction to the use of therapeutic endoscopic ultrasound in daily endoscopic practice.
-Special Focus on-
Cystogastrostomy
Hepaticogastrostomy
EUS-guided gallbladder drainage (gastric cholecystostomy)
FNB of different tumor models (liver, stomach, pancreas, and lymph nodes)
Radiofrequency ablation
Celiac plexus neurolysis
Fiducial placements
Confocal endomicroscopy
Intracystic mini biopsy
Vascular intervention: venous embolization and guided gastro-jejunal anastomosis
Open to 16 participants accompanied by their nurses.
Welcome to this magnificent course!
Course Director:
Leonardo SOSA VALENCIA MD, MSc
International Experts:
F. HABERSETZER FR, J. HUPPERTZ FR, L. SWANSTRÖM US, S. CARRARA IT, M. KHASHAB US, S. KOCH FR, A. LARGHI IT, D-W. SEO KR
Located at IHU Strasbourg & IRCAD France, in Strasbourg.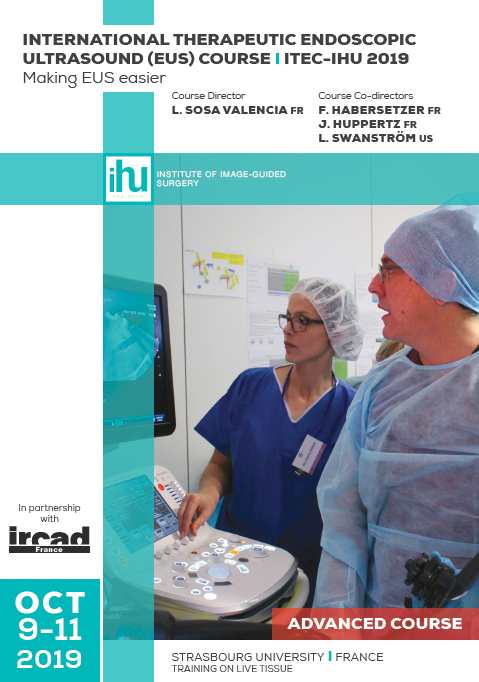 Course Director:
L. Sosa Valencia FR.
Course Co-directors:
F. Habersetzer FR.
J. Huppertz FR.
L. Swanström US.
Download the program of ITEC 2019
---
Registration completed