The course was changed due to Covid-19.
Register for the course "Image-Guided Intervention/Surgery Virtual Week" organized by the Institute of Image-Guided Surgery!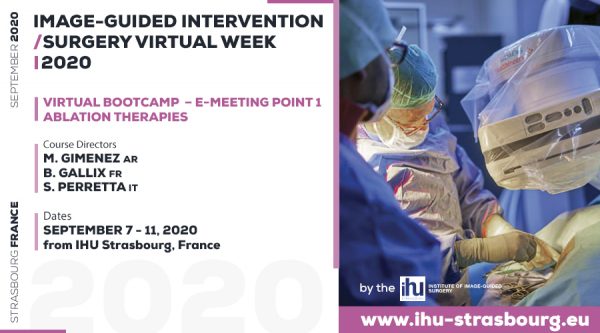 The current unprecedented crisis has brought about the opportunity to innovate and enhance e-learning solutions.
A virtual boot camp in ablation therapies would be the kick-off for a new e-learning pathway in Image-Guided Therapy.
The aim is to initiate and accompany participants on this topic through e-learning bootcamps ahead of the onsite practical course which will take place in April 2021.
Please save these dates:
E-meeting point #1: September 7-11, 2020
E-meeting point #2: November 23-27, 2020
E-meeting point #3: February 2021 (dates to be confirmed)
Onsite practical course: April 12-16, 2021
Registration details
Candidates can register for each session separately.
Cost of each e-learning session: 50€ (deductible from full onsite course fee).
For further details, please contact us at training@www.ihu-strasbourg.eu.

Course Directors :
M. GIMENEZ AR
B. GALLIX FR
S. PERRETTA IT