In partnership with the University Hospital of Strasbourg, the IHU Strasbourg offers a diagnostic imaging platform equipped with the latest generation of equipment. This platform is equipped with a twin-tube scanner, and a 3T MRI.

The mission of this imaging platform is to guarantee access to innovation for all patients.
The specialty of this imaging platform is the diagnosis of abdominal and pelvic pathologies.
Through this imaging unit, the IHU undertakes to provide a rapid response to any request for imaging. This imagery also aims to integrate into innovative care paths for the patient.These are the possibilities of "1-day diagnosis" of hepatic, biliary and pancreatic pathologies, colorectal, eso-gastric pathologies but also the "patient journey" preparatory to obesity surgery.
COVID-19 procedure: your imaging center remains open and welcomes you safely.
Remember to bring your valid health pas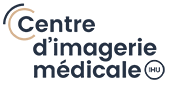 CT and MRI appointments:
Medical Imaging – www.ihu-imagerie.eu