Sign up for one of the 2023 Courses organized by the IHU Strasbourg!
The Institute of Image-Guided Surgery (IHU Strasbourg) continues to develop its training offer in Therapeutic Endoscopic Ultrasound (TEUS) and invites you to attend one of the 2023 courses.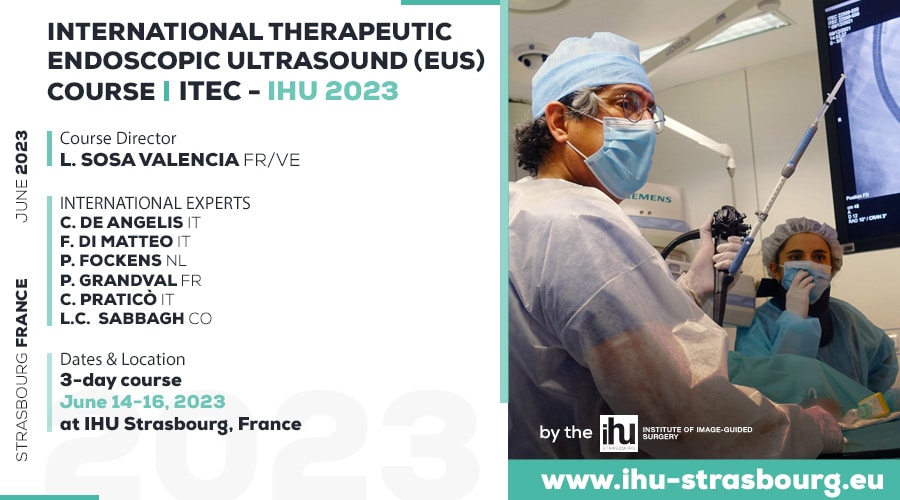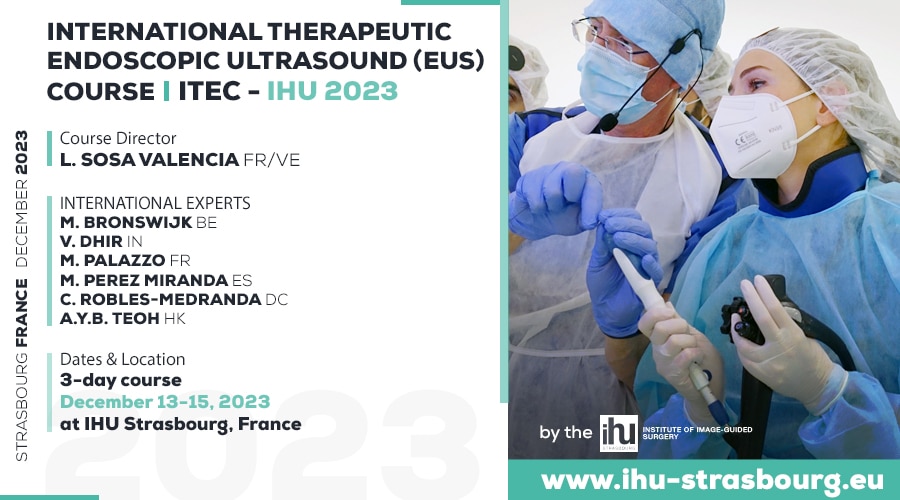 Therapeutic Endoscopic Ultrasound (TEUS) has been established as a new reference technique for the minimally invasive treatment of digestive pathologies. This has led to a growing need for specialized training of echoendoscopists wishing to work on models that reflect the reality of their clinical practice.
The IHU Strasbourg offers advanced level courses where practical focus is fundamental. These courses are intended for experienced echoendoscopists who would like to train in TEUS with internationally renowned experts. Training is based on pathological in-vivo models elaborated to mimic the different pathologies encountered and to facilitate learning how to treat these using Endoscopic Ultrasound.
In 2023, the IHU Strasbourg is proposing ITEC-IHU, a unique 3-day course with practical training by a panel of international experts. Participants will benefit from 14 hours of Hands-on training with simulated models and get to practice up to 10+ procedures. Training sessions take place in an exceptional multimodal imaging platform (scanner CT, angio CT, IRM and C-ARM) where participants are able to access the latest generation equipment in EUS.
– OBJECTIVES –
Progress from Diagnostic EUS to Therapeutic EUS.
To understand the full potential of Therapeutic EUS in the daily practice of endoscopy.
100% hands-on training on original and realistic in-vivo models.
14 hours of Hands-on training – Up to 10 procedures:
Multiple simple and complex cystogastrostomies – cold and hot systems
Gallbladder drainage
CBD gastrostomy (Choledochal drainage)
Radiofrequency ablation
FNB & FNA
Portal pressure measurement
G-G anastomosis
Fiducial placement
Glue and coil embolization
Hepaticogastrostomy (optional)
Neurolysis of celiac ganglia
Microbiopsy sampling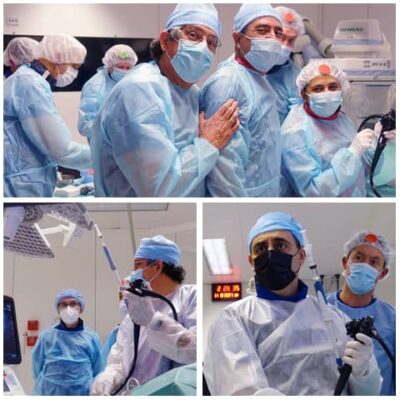 Course Directors and Co-Directors:
Leonardo SOSA-VALENCIA, FR/VE
Abdenor BADAOUI, BE
Jérôme HUPPERTZ, FR
François HABERSETZER, FR
International Experts:
June 14-16, 2023
C. De Angelis, IT
F. Di Matteo, IT
P. Fockens, NL
P. Grandval, FR
C. Praticò, IT
L.C. Sabbagh, CO
December 13-15, 2023
M. Bronswijk, BE
V. Dhir, IN
M. Palazzo, FR
M. Perez Miranda, ES
C. Robles-Medranda, EC
A. Y.B. Teoh, HK
PUBLIC PRICES
Group A


Complete training with hands-on, lectures and clinical case presentations Open to 16 participants, each accompanied by a nurse/assistant
Doctors with confirmed experience in diagnostic EUS with fine-needle biopsy and interventional endoscopy (>3 years) and/or confirmed experience in ERCP (>3years) and abdominal ultrasound (>4 years)
Price : doctor's nurse/assistant is included (except social event at participant's charge)

Early bird : 2 355 €
Full price : 2 945 €
Group B

Auditorium with live transmission from the experimental platform, lectures and case presentations
Open to students, doctors and nurses interested in Therapeutic EUS.
Price :

Early bird : 665 €
Full price : 835 €
Early bird discount of 20%. Deadline :

– March 3 (for June 14-16 course)
– September 3 (for December 13-15 course)

Special discount of 20% to members of the « Club Francophone d'Echoendoscopie (CFE) » and the « Société Française d'Endoscopie Digestive (SFED) »
– on presentation of supporting document.
Preferential rates are available for accommodation with our partner hotels.
Training venue: IHU Strasbourg, 1 place de l'Hôpital, 67091 Cedex Strasbourg
---
PRE-REGISTRATION FORM